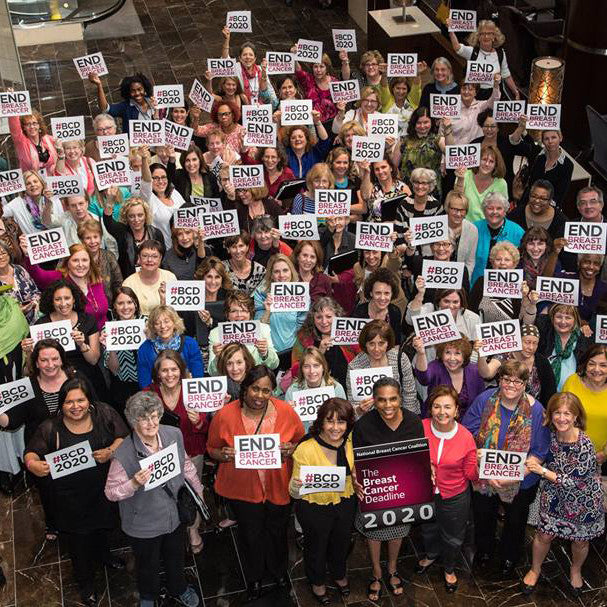 In May 1991, disheartened that many breast cancer organizations spent most of their money in self-help groups rather than focusing on systemic change, several different breast cancer groups came together in Washington, DC to discuss advocacy efforts and increasing research funding for breast cancer. Together, this group formed the
National Breast Cancer Coalition (NBCC)
. The following year, Fran Visco, an attorney and breast cancer survivor, was voted as the first NBCC president.
Lisa Hoffman has been inspired by the efforts of NBCC and connected with the organization 7 years ago to show her support of the cause. Each year, 100% of profits from Lisa Hoffman's dedicated Breast Cancer Awareness fragrance jewelry pieces are donated to NBCC. I talked to NBCC about its goal to overcome breast cancer:
How has NBCC found success in the fight to end breast cancer?
Due to lessons learned from AIDS activists, we found that lobbying for policy change would be critical to meet our mission of ending breast cancer. One of our first efforts was demanding more money from the government for breast cancer research. We collected 600,000 signatures and delivered them to Capitol Hill, which effectively resulted in increased federal funding for breast cancer research, including $2.89 billion for the Department of Defense (DOD) Breast Cancer Research Program. Additionally, we launched a Clinical Trials Initiative to make certain that the right research gets done correctly and quickly, that trained breast cancer survivors are included in trial design and accrual; and that policies encourage access to trials and mandate insurance coverage for participants.
What is the Breast Cancer Deadline 2020 initiative?
To renew the sense of urgency to its mission and to refocus global efforts on ending breast cancer and saving lives, NBCC set a deadline: to know how to end breast cancer by January 1, 2020, Breast Cancer Deadline 2020. NBCC has a strategic plan of action to achieve the deadline which focuses on primary prevention, stopping women from getting breast cancer, and understanding and preventing metastasis (the spread of cancer), which is responsible for 90% of breast cancer deaths.
Can NBCC give an example of how donations from businesses like ours are used?
Support from businesses like Lisa Hoffman help us educate more advocates in the science of breast cancer in order to better collaborate with leading breast cancer scientists to advance our research agenda and to maintain our influence in the public policy arena and to push for quality care and health care access to better serve all communities.
How can people get involved at a community level?
We believe we are stronger together, and that real progress can be made if we use our collective power to bring focus to ending breast cancer. We invite all those who share our passion for the cause to join us as we push ourselves to ask the tough questions, challenge scientists, tell the truth, lobby for research funding and access to care, and push for what will save lives. Become an advocate and sign up for NBCC's Call to Action. Tell friends and family about NBCC; encourage them to donate and get involved; connect with NBCC on social media; attend an NBCC event! Every effort brings us closer to our goal of knowing how to end breast cancer by January 1, 2020.
To join Lisa Hoffman in this life-saving organization, click here.