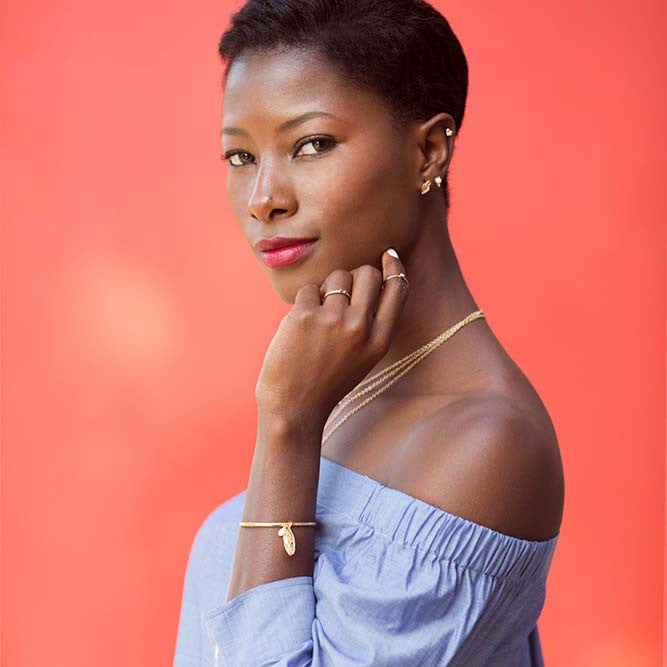 If you buy one top this season, make sure it's off-the-shoulder. You can show some skin in an elegant way with waterfall sleeves, bohemian embroidery, and other feminine detailing with summer's latest offerings.
An off-the-shoulder top is the perfect canvas: It draws attention upward to your décolletage and face. You can pair the top with a statement necklace or shoulder-grazing earrings. Or, keep the focus on your face, and accessorize with stacks of complimentary bracelets and bangles instead.
Launch the gallery to see this outfit. 
Off-the-shoulder tops are also versatile. Go for a romantic look with a frilled version, or try a button-down silhouette for a crisp look. Pair your top with nice summer sandals and a maxi skirt for day and skinny jeans and heels for a night out.
I personally love this style because it exposes the less predictable gorgeous parts of the body like the neck, shoulder, collarbone, and top of the back. Off-the-shoulder tops have the added advantage of arm coverage for a little extra insulation, so they don't seem as exposed as you might be in a strapless top.
One of my favorite off-the-shoulder tops is this Melange Off-The-Shoulder Shirt from Theory. It's simple, yet classic. The elasticized shoulder and bottom cuff give me that check-me-out, flattering feeling—and I love the boho look of it.
This blouse is so versatile; I prefer to go with skinny jeans. But you can pair it with just about anything.
Launch the gallery for accessory inspiration. Deddeh wears our Laurel Cuff. 
So the next time you are looking for a nice blouse to invest in, think: Lucille Ball, Brigitte Bardot, Natalie Wood, and Grace Kelly: the original collarbone queens. Think of the blouse that will last, and that is the off-the-shoulder top.
Deddeh Howard is a fashion & lifestyle blogger, yogi, and student of medicine. Follow her on Instagram.