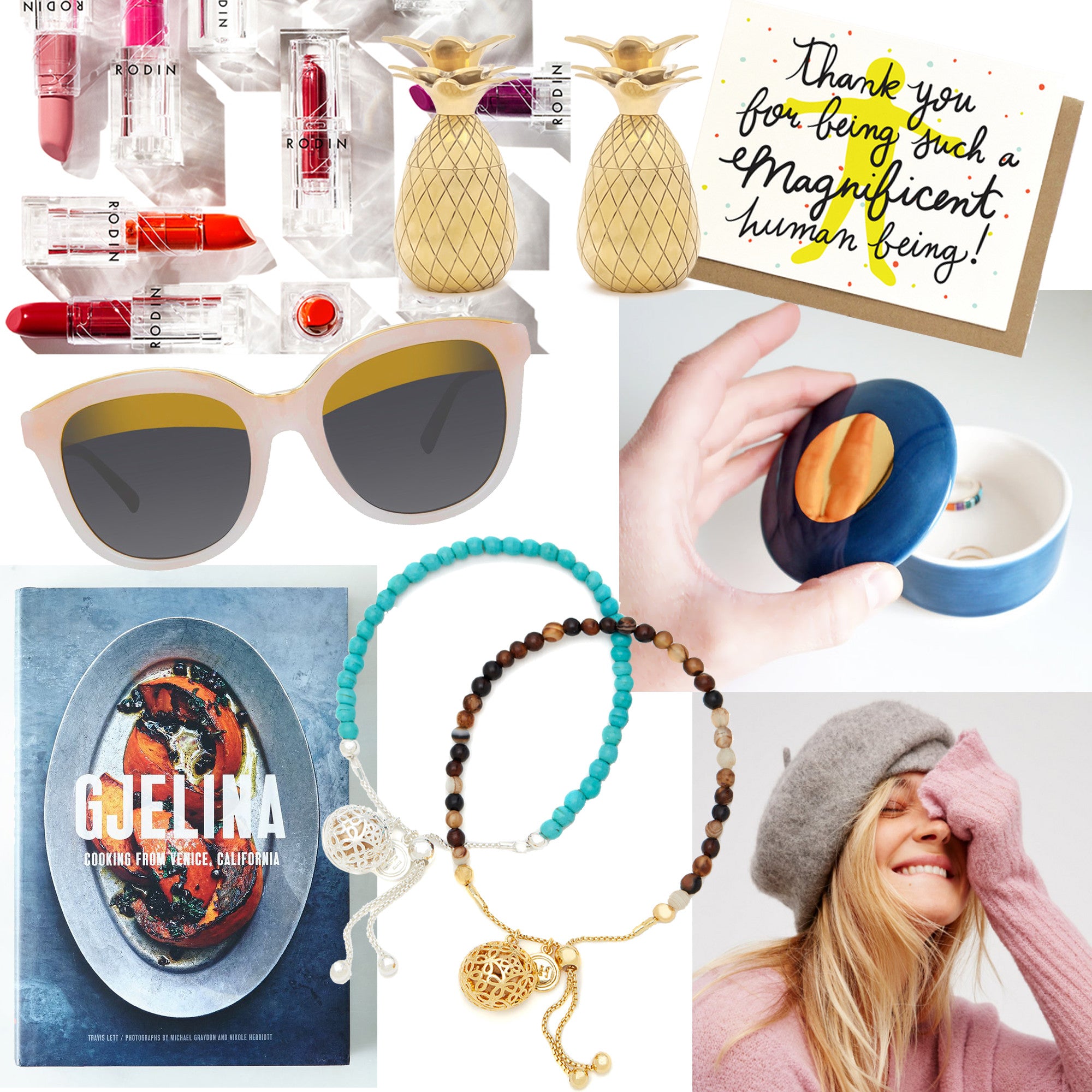 Now more than ever, we're all about celebrating the women in our lives. Since Valentine's Day is meant to adorn the person you love, why not spend this coming holiday honoring the person who's been your constant this past year: your BFF? 
Our team of stylists (who also happen to be best friends) scoured the internet to find the most stylish gifts for Valentine's Day, ahem Galentine's Day...
 From top left, clockwise: 
Rodin Luxury Lipstick, $38 each, oliolusso.com
Every It Girl has her signature lipstick—give yours her new favorite shade. These lipsticks are so rich and pigmented, she won't need any other makeup to look effortlessly fantastic.
The Pineapple Co. Pineapple Shot Glass Set, $35, wandpdesign.com 
Who else is better to enjoy shots with in these adorable gold pineapples other than your partner in crime? Join their mailing list and get 20% off your first purchase. Make it a double!
Little Wow Magnificent Card, $4.50, littlelow.com
Because your bestie is magnificent, and someone made a card to let her know it. Your purchase will support your friendship and an environmentally friendly, female-founded company. 
The Object Enthusiast Navy + Gold Jewelry Box, $40, theobjectenthusiast.com
As beautiful as the jewelry itself, this box is handmade and finished with 22k gold. It's the perfect home for her fragrance jewelry collection, or any tiny-yet-loved accessories.
Free People Bisous Slouchy Beret, $38, freepeople.com 
Berets are back (as if they ever went out of style). Our stylists raved that they love the cozy heather grey color and effortless fit of this winter-to-spring hat. Très chic!
Lisa Hoffman Turquoise & Sand Friendship Bracelet Duo, $95, lisahoffman.com
This fragrance bracelet set is made for sharing. Keep one style and give your BFF the other—each has a vial of refillable Warmth fragrance beads with notes of rose and magnolia blooms, lemon, bergamot, and violet. 
Gjelina Cookbook, $21, amazon.com 
If you can't make it to Venice, California for a day with your bestie, you can recreate Gjelina's famous dishes at home. This cookbook provides easy-to-follow instructions and beautiful photography; no reservation required. 
Linda Farrow No.21 S3 C7 Oversized Sunglasses, $260, lindafarrow.com 
Recognized for its modern yet understated aesthetic, these sunglasses are the epitome of contemporary luxury design. The combo of baby pink frames with gray and gold lenses have will everyone doing a double take when she walks by.
Just for Galentine's Day: Receive $20 off our Friendship Fragrance Bracelet Duo. Use code FRIENDS17 at checkout. Offer ends 2/14.