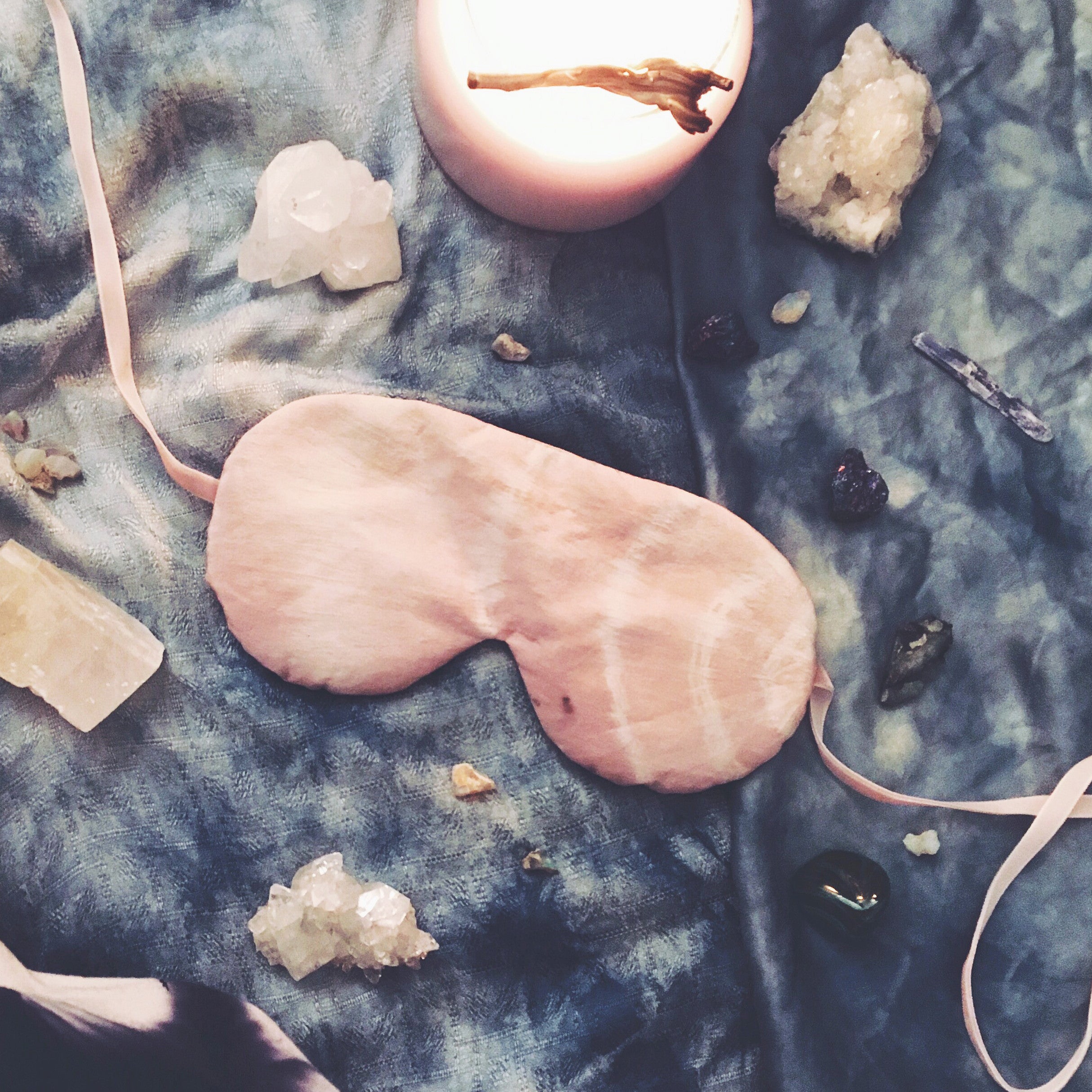 Before we meet Susanna, there are two things you should know about me: 1) I have super sensitive skin. I'm talking rosacea, frequent hives, and a whole lot of stinging upon new product application (which is why I'm such a fan of fragrance jewelry). 
2) I'm really into sleep. And while I realize most people love sleep, my obsession is so amplified that I've been likened to a sloth and a koala (which sleep 16-18 hours a day), on multiple occasions. 
Random personal trivia aside, it's because of these traits that I'm a huge fan of luxury sleep essentials company Earthen Warrior. Made with high-quality fabrics like silk and cashmere, the sleep masks from the NYC-based company don't irritate the (already) sensitive skin around your eyes—plus, they fit well, and block out all light to ensure quality zzz's. 
Another reason to love Earthen Warrior: its founder, Susanna Taylor, is a creative force with a work ethic that is truly awe-inspiring. Essentially acting as a one-woman-show, Susanna is involved in every step of her business including designing, sewing, marketing, photography, and shipping out her creations. 
With such a beautiful product backed by such an amazing woman, Lisa Hoffman sought out Earthen Warrior to create a gorgeous gift set, just for Mother's Day 2017.
We talked to Susanna to learn more about her sleep masks, inspirations, and, in honor of Mother's Day, what she got from her momma: 
What influenced you to start a business around sleep?
Three years ago, I was living in NYC working freelance as a seamstress and waitressing on the side. We had these horrible neighbors who would play loud music all night, every night, so I would need to take a lot of daytime naps. I was looking to buy a nice sleep mask at a good price, and could not find one—so I made one!
As someone with an entrepreneurial mind, this hole in the market floored me. I figured if I was searching for a luxury, reasonably-priced sleep mask, others must be, too. 
Tell us about the materials you use to make your sleep masks.
The first few sleep masks I made were 100% repurposed material that I already owned: a cashmere sweater for soft backing against the eyes, a t-shirt sleeve, ribbon and elastic I had on hand from my time at Parsons, scrap fabric, a cut-up blouse...
I'm driven to build a company that encourages thoughtful use of materials and environmental stewardship. I'm also equally obsessed with luxurious, beautiful textiles. Environmental responsibility plus luxury feel and look is my formula. Currently, I use repurposed cashmere, natural dyes on silk, other repurposed and vintage textiles, and screen printed cottons from Liberty London.
It's clear from your masks and even Earthen Warrior on Instagram that you have a defined aesthetic. How would you describe it?
I'd describe my aesthetic as bohemian classic. Once I'm in the creative zone, pretty much everything inspires me. I'm obsessed with '70s fashion (think Studio 54 and Soul Train), fashion photography from anytime in history….
Tim Walker's photos are a huge inspiration in their surrealism and the fact that he makes all of his props—nothing is computer-generated. I'm inspired by animals and plants because they remind me of the vastness of our earth and what was created outside of the human hand.
What else inspires your designs?

I'm equally and conversely inspired by music, art, dance, and people who have changed the course of history with their conviction and passion. I'm in love with interior design and fashion design because of the use of textiles and texture. I need to feel every fabric I pass by and asses what it's made of and how it feels on my skin.
I love the ability to connect with people via pop culture in my designs. For instance, the Embroidered David Bowie Mask, the "Boy, Bye" Mask, the "Serenity Now!" Mask, the Frida Flower Crown Mask, and the Breakfast at Tiffany's replica mask.
I'm also inspired by the healing properties of sleep, rest, self care, and connecting with the more spiritual and healing realms via the Third Eye Mask and the Healing Eye Pillows a healer I use sells in her newly-opened SoHo practice, Space by MamaMedicine. 
As we approach Mother's Day, we want to know: how do you think your mom has impacted your life as a female artisan and entrepreneur? 
A couple important traits I got from my mom are immense creativity and the ability to "wing it." I was raised to make do with what you have, not be wasteful or spend money, and to be very crafty. I think that is why I have a business to this day—and I was able to start it with zero dollars and a whole lot of figuring it out on the fly. 
My mom also had a child care center she started out of our home when I was in middle school that she operated that was also a  great success in the same way. Additionally, she makes beautiful shadow boxes out of found objects. Again, like me, she makes something out of nothing. 
Scroll through the gallery to peek at Susanna's work process and designs. All photos courtesy Earthen Warrior.
The Lisa Hoffman x Earthen Warrior Mother's Day Gift Set comes with a 100% raspberry-dyed silk mask from Earthen Warrior, limited edition Lisa Hoffman fragrance bracelet, and vial of new Calm fragrance beads. Learn more about Earthen Warrior.